The "Martian style" imperial IPA from New Realm has arrived
admin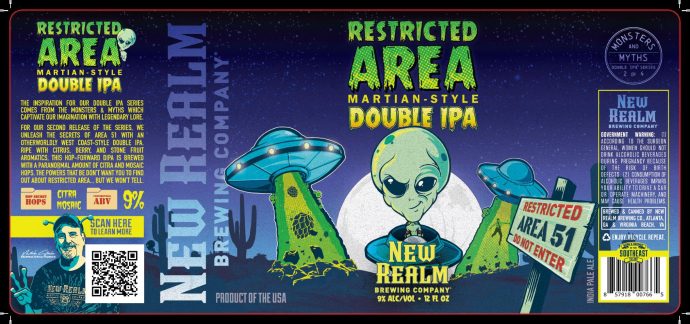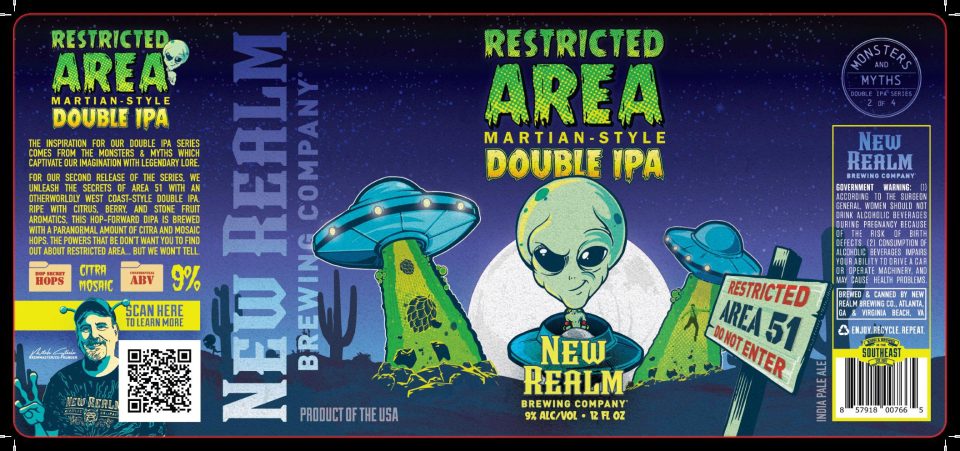 New Realm Restricted Area Double IPA marks the second release of the brewery's Monsters & Myths Series in 2022.
Apparently, the secrets of the infamous Area 51 in Nevada include hops. Restricted Area Double IPA is a double IPA, brewed with a "paranormal" amount of Citra and Mosaic hops. According to New Realm, the brewery had yet to brew a beer using those two hop combinations together.
"Our Monsters & Myths DIPA series is a favorite among beer fans every year, and we can't wait for Restricted Area to make its debut as our newest addition to the lineup. We joke that Restricted Area is a 'Martian-Style' DIPA, but really, it's just out of this world! We cannot wait to see what our hop-loving beer fans think of this new release." – Bob Powers, Co-Founder and Chief Sales & Marketing Officer
New Realm Restricted Area Double IPA is available in 12-ounce cans and draft in late April 2022.
Style: West Coast Style Imperial IPA
Hops: Citra, Mosaic
Availability: 12oz Cans, Draft. Limited Seasonal Release
Debut: Late April 2022
9% ABV
The post The "Martian style" imperial IPA from New Realm has arrived appeared first on Beer Street Journal.