Russian sounding vodkas get dumped across America in Ukrainian solidarity
admin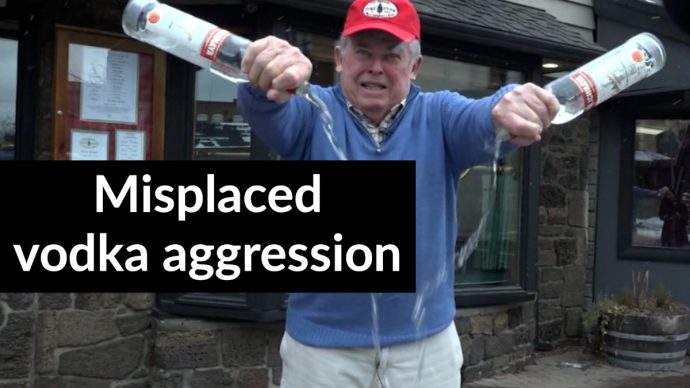 Americans are glued to their newsfeeds right now, as Russia continues to invade Ukraine. For most of us, there's not much we can do, unless you own a bar and have "Russian" vodka sitting on the shelf. Your instinct is to pour down the drain in protest.
Over the weekend bars did just that. Even state governors of Ohio, Texas, Utah, and New Hampshire got into the action, ordering state retailers to pull Russian-born vodka from the shelves.
Stolichnaya (aka "Stoli) was a big target this weekend.
In a video that has since gone viral, the owner of Pine Tavern Restaurant in Bend, Oregon is seen dumping Stoli Vodka down the drain. It's easy to understand the sentiment as a form or protest. There's a catch though – Stoli isn't Russian. It's produced in Riga, Latvia. Furthermore, Stoli is headquartered in Luxembourg. While Stolichnaya was a Soviet Union-era brand, Russian-born Yuri Shefler who owns SPI Group that owns Stoli moved to Luxembourg when Putin came to power. Shefler was protesting Putin years before Crimea or Ukraine happened.
Smirnoff hit the drain too.
A good bit of Smirnoff hit the sewers recently too. Smirnoff was founded in Moscow in the 1800s. This popular vodka brand does have Russian origins, but yet again, is no longer Russian. Diageo owns the brand now, and a good bit of the brand is produced in Illinois.
All in all, true Russian vodka, is a much smaller target if you're wanting to drain pour any of it. Russian Standard Vodka is actually produced in Russia and is one of the most popular Russian-made in the United States. Ohio Governor Mike DeWine specifically requested Russian Standard Vodka as well as Green Mark Vodka to get pulled off the shelves in Ohio. That number according to the governor is around 6,400 bottles across Ohio's 487 retailers.
Today I directed @OhioCommerce to cease both the purchase & sale of all vodka made by Russian Standard, the only overseas, Russian-owned distillery with vodka sold in Ohio. Russian Standard's vodka is sold under the brand names of Green Mark Vodka & Russian Standard Vodka.

— Governor Mike DeWine (@GovMikeDeWine) February 26, 2022
These nationwide pour protests are largely symbolic, unfortunately, and won't hit any Russian vodka companies bottom lines. According to the Distilled Spirits Council of the United States, vodka sales in America hover around $7 billion dollars annually. True Russian vodka imports, accounts for less than 1.5% of those sales.
So say you've dumped all your Russian-sounding vodka, or better yet, you're hoping to show your distaste for Russian vodka after the actions of late. There are a few Ukrainian-made vodkas, including Kozak and Nemiroff that are available in small quantities stateside.
Headline Image: Screengrab from Pine Tavern Restaurant's Facebook vodka protest, February 24.
The post Russian sounding vodkas get dumped across America in Ukrainian solidarity appeared first on Beer Street Journal.