Orpheus Brewing debuts 7 beers for Year 7 this weekend
admin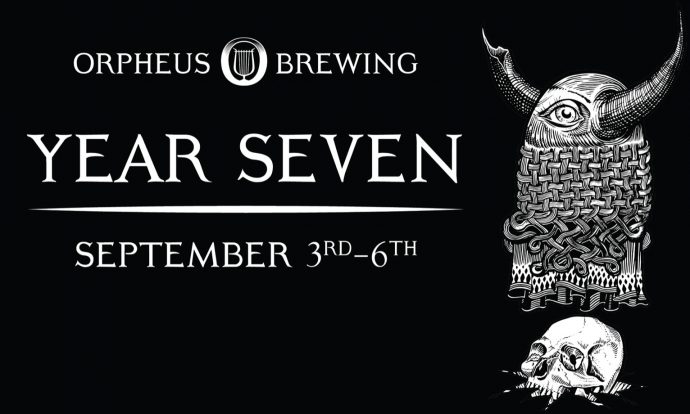 We missed Orpheus Brewing's Year Six celebration. The pandemic took care of that.
The anniversaries before this virus mess, I sat down with brewery founder Jason Pellet and we chatted about the previous year of running a brewery, beer trends, greek mythology, and music. We both play instruments so it's easy to geek out, especially when it comes to classical music.
Maybe this year we can sit down again to do a little day drinking and do it all again. In the meantime, Orpheus Brewing celebrates their 7th year this weekend. In true Orpheus fashion they aren't releasing just one anniversary beer. They are dropping 7 (or more.) Crazy long names intact.
Here is the full list of release we got Orpheus to divulge. Cliff notes version – look out for a barrel-aged dopplebock, barrel-aged barleywine, a few wild ales, plus some barrel-aged imperial stouts. Fall is coming. It's time to put the seltzers down.
An 8-bottle set is available now to purchase on Oznr. We are assuming individual bottles will be available at the party day-of.
That said – here's the release lineup. The beers are all pretty big… Each link opens in a new window.
Zephyr Punch – Native Wild Ale. 75% spontaneous beer, & 25% native culture saison. A blend with Brick Store Pub.
Barrel-Aged City in the Trees – Long boil Dopplebock, aged in bourbon barrels. 11% ABV
Room a Thousand Years Wide – Bourbon Barrel Aged Barleywine. 13% ABV
Stillness Feels the Air and Shudders – Whiskey Barrel-Aged Imperial Stout, aged 2-3 years. 13.2%
Darkness has no Alibi – Bourbon Barrel Aged Imperial Stout, with oats, molasses, spices. 12.9% ABV
Constructing Eternity out of Discount Ruins – Bourbon Barrel Aged Imperial Stout w/ coffee & vanilla. 13%
The Brief Infinity We Built – Spontaneous wild ale with Georgia Peaches. 5%
Extant Riches Burning So We Venerate the Ashes – Barrel Aged Imperial Stout with bananas, cinnamon, vanilla. 13%
Stouts All the Way Down, Vol 16. – Barrel Aged Imperial Stout with honey roasted peanuts & strawberries. 13%
Orpheus Year Seven festivities run September 3rd – 6th.
The post Orpheus Brewing debuts 7 beers for Year 7 this weekend appeared first on Beer Street Journal.