Fall Kickoff: Georgia Tech Athletics now have their own beer
admin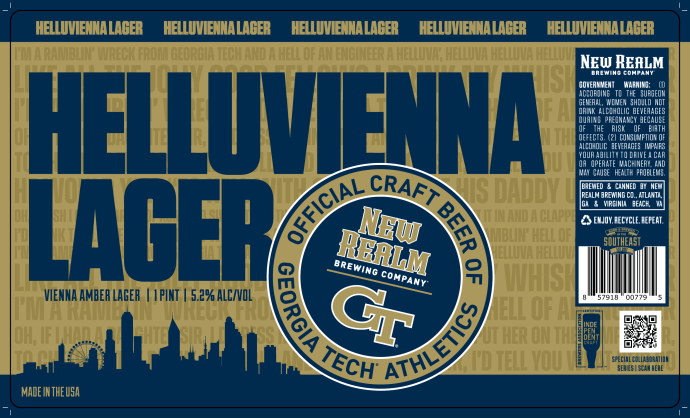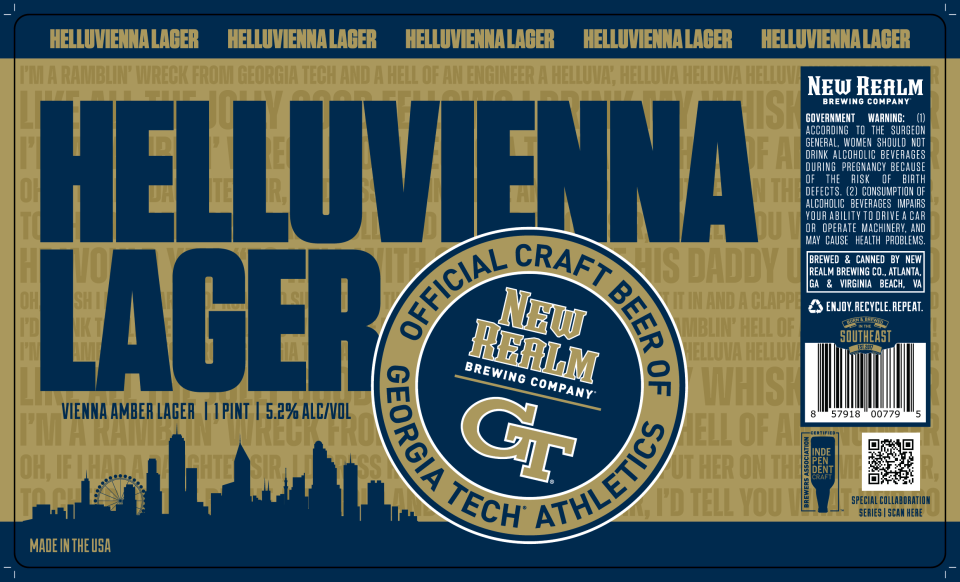 Thanks to Atlanta's New Realm Brewing, Georgia Tech Athletics has its first official beer. The beer launches today ahead of Tech's first football game against Clemson.
New Realm Helluvienna Lager debuts today, an amber lager suitable for mass consumption at tailgates, at home or bars during any and all of Georgia Tech's sports programs. The launch of this beer on the first day of Tech's football season was intentional, according to New Realm's co-founder and CEO Carey Falcone. "We have enjoyed the support of the Georgia Tech community since we opened in 2018. "We are looking forward to being on-campus and a part of Tech history," Falcone says. "From our first meeting with Angel Cabrera (GT President), Todd Stansbury (GT Athletic Director), and the leadership team at GT, it was clear that this was much more than a sponsorship, it was a partnership," Falcone adds.
"The style of beer that comes to mind when we think sports is a lager," Jeff Chassner, the brewery's Chief Sales Officer tells Beer Street Journal. "We've brewed a lot of German-style beers over the last two years, so an amber lager similar to our Bavarian Prince festbier was pretty much where we wanted to be," he adds. " New Realm sent a few beers over to their friends at Tech to try, and the Vienna lager won hands down.
READ MORE: NEW REALM & BLACKBERRY SMOKE TEAM UP
Helluvienna Lager features pilsner, Vienna, German Munich, and Carared Malts, along with German Hersbrucker hops making it about much of a European -style beer as possible, minus the location. As for the name? Helluvienna Lager is a play on the (I'm a) Ramblin' Wreck from Georgia Tech" fight song. Interestingly, that fight song started as a Scottish drinking song in the late 1800s. Naturally.
Here in the 21st Century, this New Realm/Georgia Tech collaboration hits shelves this week in 16-ounce cans and draft. It's already on tap at Atlanta-area Taco Macs, and on shelves at Total Wine, Tower, and Mac's Beer and Wine. Over the next few weeks – metro Atlanta QT, Kroger, and Publix locations.
Tonight the #4 ranked Clemson Tigers travel to Atlanta to play Georgia Tech for a rare Monday night at Mercedes-Benz Stadium.
Clemson is favored by 22.5 points. This beer might go from "fun" to "medicinal" quickly. Let's hope New Realm brewed enough of it.
Style: Vienna Lager
Hops: Hersbrucker
Malts: Pilsner, Vienna, German Munich, Carared Malts
Availability: 16oz Cans, Draft. Year-Round
Debut: 9/5/22
5.2% ABV
The post Fall Kickoff: Georgia Tech Athletics now have their own beer appeared first on Beer Street Journal.